David Goodman - Presenter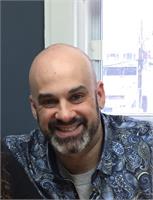 David Goodman (Paramedic, Lecturer, Author and CEO and President of Heaven Can Wait Emergency First Aid Inc.)
David Goodman completed his BSc. from the University of Western Ontario. He continued his education with a Diploma in Paramedicine from Centennial College in Toronto. David worked as a paramedic in Ontario and worked as a clinical instructor and programme coordinator at a Paramedic College in Ontario. David is a published author and respected authority in the area of Medical Emergencies/First Aid and CPR and has had articles published in both the Ontario Dentist and Aorta (Alpha Omega Dental Fraternity). David has also made a DVD series for continuing education Dental Medical Emergencies published videos (DVD Quarterly) for Dental Hygienists (Part 1 and 2, 2009).
The majority of his teaching time is spent directly in dental offices with the entire office team, on customized presentations on CPR and Medical Emergencies. In addition to in-office training, David lectures at conventions, and both dental hygiene societies and dental societies.
Some of David's appearances both lectures and certifications:
Toronto Central Dental Hygiene Society
North Toronto Dental Hygiene Society
Toronto Academy of Dentistry Winter Clinic
Ontario Dental Association Annual Spring Meeting
Ontario Dental Hygiene Association convention
Partners with the Toronto Academy of Dentistry for CPR training
University of Toronto Faculty of Dentistry both faculty and graduate students
Toronto, West, Central and East Dental Societies
Halton Peel Dental Society
York Region Dental Society
Alpha Omega Dental Fraternity
DOMACAN convention
Medical Emergencies and CPR with Dr. David Isen (Dental Anesthesiologist)
Medical Emergencies and CPR with Dr. Adam Kaplan (Oral and Maxillofacial Surgeon)
David Goodman - Presenter instructs the following:
Above date is for system purposes only. These webinars are available to view at any time.


You will receive the webinar link and password in your receipt after purchase.

Online course cost:




Non-CDHA Member $30.00

CDHA Member $25.00


CE Hours: 1.25




Medical Emergencies in the Dental Practice - David Goodman, Paramedic


Medical Emergencies that can take place in the dental practice are covered along with life saving tips that can help the dental hygienists in his/her practice.